Ready, Set, Code! Sei's Gaming and DeFi Hackathon Opens for Registration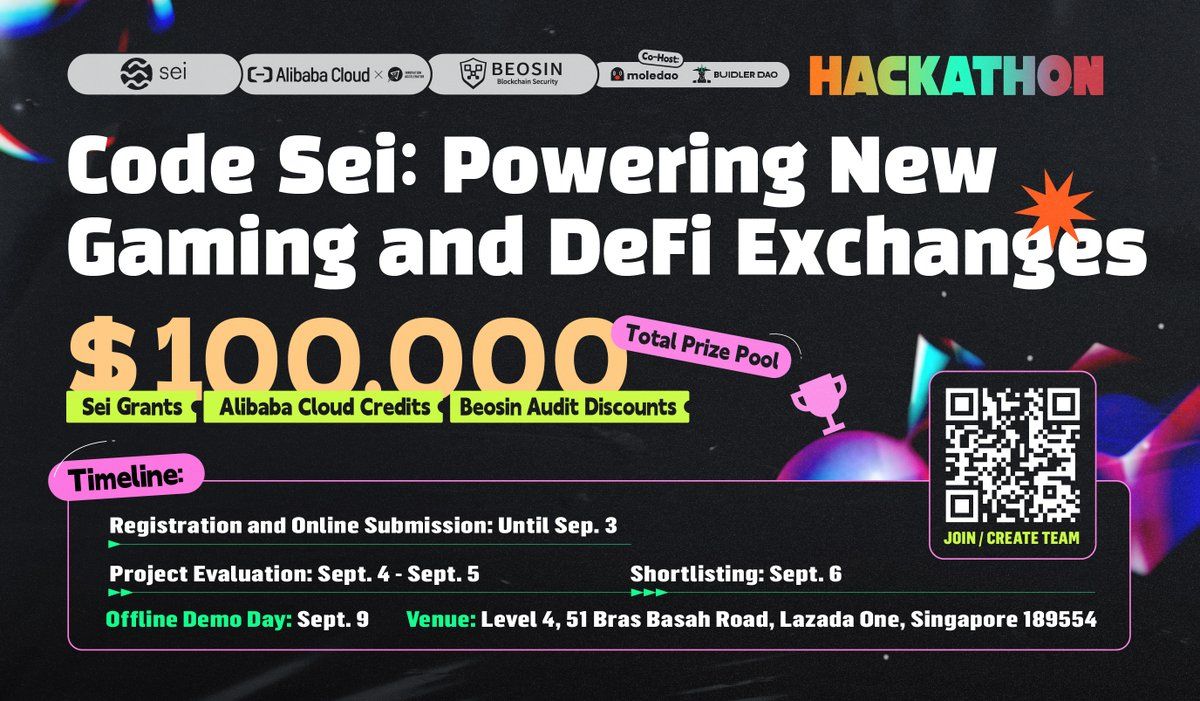 The Sei Foundation, a contributor to the open-source Sei blockchain, has announced the launch of its Singapore hackathon with the theme of "Code Sei: Powering New Gaming and Defi Exchanges". The hackathon is hosted together with Alibaba Cloud, and Beosin, and co-hosted with MoleDAO and BuidlerDAO. It will take place from August to September 2023. The event is set to bring together some of the most ambitious and innovative minds in the DeFi and Gaming Web3 ecosystem and is supported by experts from various fields including trading, infrastructure, cloud computing, security audit, and ventures.
Supporting DeFi and Gaming Builders and Projects
Sei's launch in Code Sei Hackathon is aimed at supporting DeFi and Gaming builders and projects looking to leverage Sei's fastest trading stack. The event will provide Sei with an exciting opportunity to develop its presence within the APAC region and engage with like-minded industry practitioners. Sei hopes to support and enable outstanding talents and teams in the Web3 field and assist them globally in jointly exploring the enormous development space of Web3.
Calling All Blockchain Enthusiasts, Developers, and Tech Visionaries
Get ready to dive into the world of decentralized trading possibilities as we bring together the brightest minds to revolutionize the DeFi and Gaming landscape. We welcome all innovative DeFi and Gaming project ideas!
Schedule of the Hackathon
Don't miss out on this transformative experience! Mark your calendars and register for "Code Sei: Powering New Gaming and Defi Exchanges" Hackathon starting now. Spots are limited, so early registration is highly recommended.
Registration Period: until 31 Aug
Online Submission: until 3 Sep
Project Evaluation: 4-5 Sep
Winner Announcement: 6 Sep. Choose 10 teams to be eligible for offline demo day.
Offline Demo Day: 9 Sep
Venue: Level 4, 51 Bras Basah Road, Lazada One, Singapore 189554
Total Prize Pool: $100,000
- Sei Grants: $35,000 USD
- Alibaba Cloud Credits: $10,000 USD
- Beosin Audit Discounts: $55,000 USD
Note: All projects MUST deploy on Sei.
What to Expect?
Sei's Singapore Hackathon promises an adrenaline-fueled experience like no other. Collaborate with like-minded individuals, form diverse teams, and tackle real-world challenges head-on. From developing innovative decentralized applications to exploring cutting-edge blockchain solutions, this event offers an extraordinary journey of learning and innovation.
Why Participate?
Participating in Sei's Singapore Hackathon opens doors to endless opportunities. Showcase your skills to esteemed judges, network and join workshops with industry experts, and stand a chance to win exciting prizes of $100,000 USD. Moreover, this hackathon is the perfect platform to gain exposure, accelerate your career, and make a lasting impact in the blockchain ecosystem.
Registration Links
https://moledao.io/#/events/6a0d75d8-e0f9-4de6-92bb-73fe498fd639
Looking Forward
Sei's launching of the "Code Sei: Powering New Gaming and Defi Exchanges" hackathon demonstrates the company's commitment to supporting innovation in the Web3 ecosystem globally. By collaborating with other leading institutions and Web3 industry practitioners, Sei aims to support ambitious and young builders and projects and help them take advantage of Sei's innovative tech stack. With two different tracks and a focus on innovative exchanges and Dapps, the exciting event will provide a platform for the best Web3 projects.
Moving forward, Sei is committed to extending its effort in onboarding more strong projects onto Sei ecosystem, exploring avenues like hosting combined online and offline technical workshops, networking events, and industry conventions. The goal is to bolster the growth and practical application of blockchain technology in the APAC region and worldwide.
About Sei Foundation
The Sei Foundation is a non profit organization created with the mandate to empower builders and contributors to the Sei blockchain, and further decentralize the blockchain over time.
About Sei Labs
Sei Labs is a contributor to the open-source Sei blockchain, the fastest Layer 1 for trading. Sei's unique chain-level optimizations enable decentralized exchanges and trading apps to offer the best user experience with modern performance and scalability. The Sei Labs team is composed of industry veterans from Goldman Sachs, Databricks, Robinhood, Google, and Nvidia.