The sei/acc Accelerator Program is here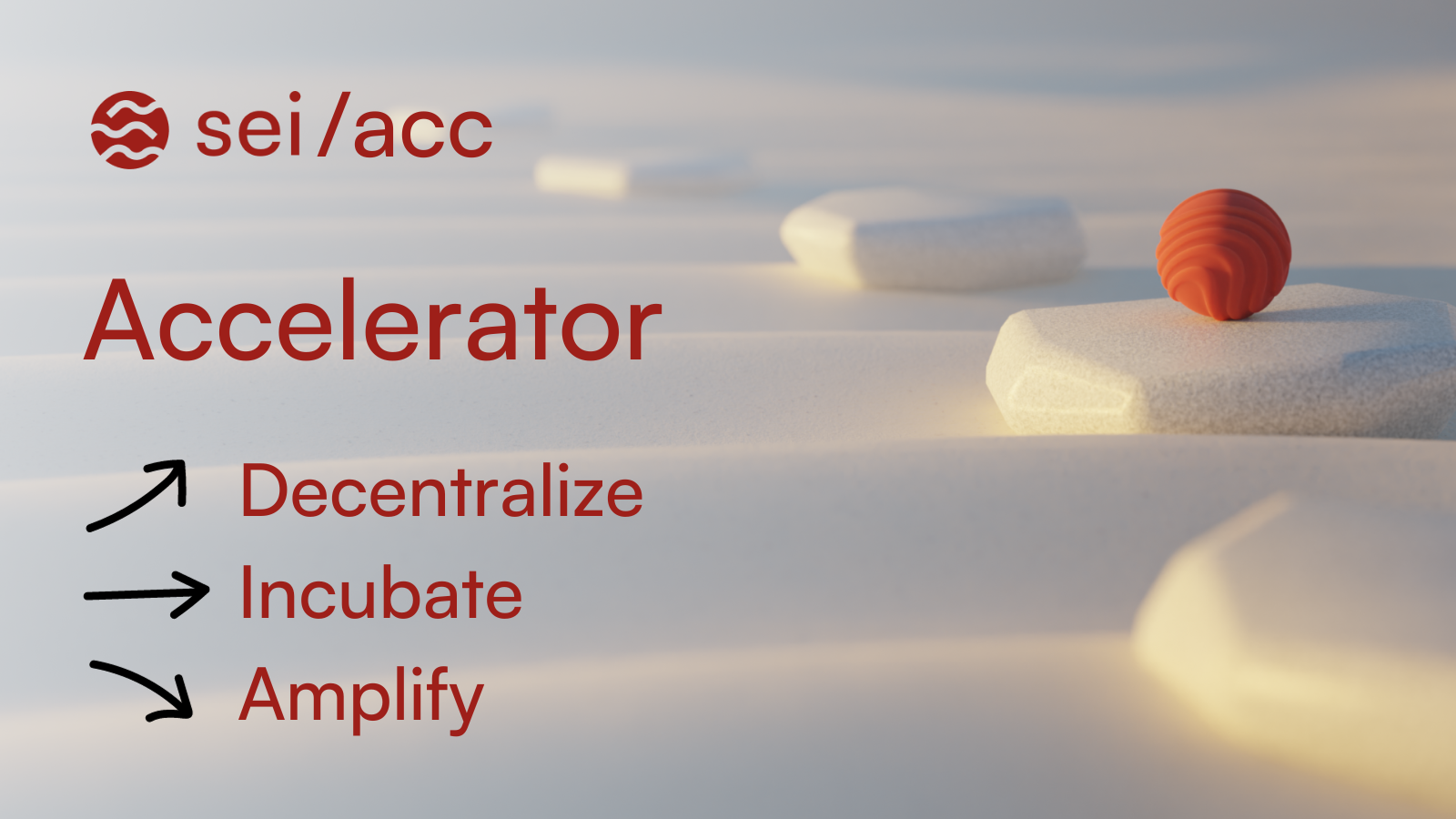 If you are an experienced founder or subject matter expert at any stage of your career, you can apply here to take part.

In crypto, Sei is at the forefront of innovation. The Sei ecosystem is positioned for significant growth, and central to this is finding the strongest founders in crypto to champion initiatives.
Sei is excited to introduce the sei/acc program, which aims to identify the strongest founders in crypto, facilitate revolutionary decentralized applications (dapps) and accelerate ecosystem expansion.

The Objective
The sei/acc program aims to nurture an environment within the Sei ecosystem that empowers dedicated founders and talented individuals keen on developing and launching transformative dapps and products. Sei is committed to unlocking the inherent potential of the candidates and assisting them in expanding the scope of the Sei ecosystem. By the end of the program, candidates will not only have devised a comprehensive strategy but will also be fully equipped to advance their innovative projects to new heights of achievement.
There are three Tracks in the sei/acc Program:

1. Sei Decentralization Program

Sei is pioneering a decentralized future by recruiting visionary candidates to propel the expansion of the Sei Network across strategic global markets. Candidates will be the cornerstone of growth, catalyzing Sei's expansion through venture-backed distribution startups. The primary objective is to increase Sei's user base and cultivate a thriving local development community. Once startups are poised to scale to new heights, potentially engaging a broader clientele and exploring additional venture capital opportunities.
Potential candidates are expected to devise and execute a strategic roadmap to elevate Sei's prominent presence in their area of influence. Performance will be gauged against definitive Key Performance Indicators (KPIs), with significant key milestones triggering token incentives and competitive remuneration. Upon achieving primary accomplishments, candidates may also gain the opportunity to helm their enterprises within Sei's expanding network.
2. Sei Incubation Program

Sei Labs and the Sei Foundation have ideas they'd love to see built; however, for each of these products there is a missing piece: a founder to champion each.
The Sei Incubation Program is designed to accelerate projects from the initial stage to launch readiness, offering candidates a unique opportunity to immerse themselves in a portfolio of projects with potential for refinement. Potential candidates are expected to develop a go-to-market strategy, organizational development, technical development, product, and fundraising from either a business or technical perspective to bring to fruition the project that ignites their passion and aligns with their expertise.
Program managers from the Sei internal team will assist candidates in achieving crucial KPIs, supported by marketing, recruitment, and technical development. Once successfully selected at the end of the tenure, the candidate will either drive the project forward from a technical development standpoint or lead the project from a business standpoint in a leadership position, with significant key milestones triggering token grants and competitive remuneration.
3. Sei Launchpad Program

In many cases, Founders already have the beginnings of their project mapped out. The Sei Launchpad serves as a forge for consumer facing applications, turning early stage projects into outstanding blockchain solutions. Candidates present and develop consumer-facing dapps or products tailored to consumer needs. The idea will be assessed from several perspectives such as its innovation, market adaptability, user potential demand, and capacity to solve real-world problems. Candidates are expected to outline a detailed project plan or an engineering build-out, and assemble a dedicated team.
Achieving key milestones can broaden the program's scope. Sei provides extensive support, fostering the convergence of talent into teams that can hone skills and develop killer applications with competitive remuneration. Hitting these critical milestones triggers the Sei Foundation's financial engagement, which includes capital investment, token grants, and audit assistance, while also securing a tactical stake in the project's triumphant future through protocol tokens or equity participation.
Application form for the sei/acc Program

Duration

The program will run for three months for each candidate, with the potential for a six-month extension on a case-by-case basis, tailored to the circumstances of individual cases.
Criteria for Candidates - What kind of founders the Foundation is seeking

The Foundation is seeking founders/former founders who have successfully launched projects in the past and have the drive to be successful. Candidates must include one of the following criteria:
Have a proven track record of building a company or project.
Have an outstanding track record of being a subject matter expert in a specific domain.
Have a successful exit or experience in scaling businesses from inception to operational stage.
( *Please note: The Sei Launchpad Program allows up to two co-founders who provide their skills complement each other, such as CTO/CEO. However, the Sei Decentralization Program and Sei Incubation Program exclusively accept applications from single individuals.)
Register for sei/acc

You can Apply here

Candidates can step into the fold either by applying through the Sei official website or by a warm referral. A series of interviews will determine the suitability, after which candidates can align their passion with an initiative of their choice within the Sei's umbrella. The Sei Foundation provides a platform to facilitate the candidates' goals.
---
Embarking on the sei/acc Program:
Evaluating your suitability track
Choose the most suitable program (Sei Decentralization Program, Sei Incubation Program, or Sei Launchpad Program) based on your personal preferences, areas of expertise, and valuable past experience.
Crafting your roadmap
In the initial phase of onboarding, you'll collaborate with our team to build your blockchain roadmap, establish key milestones, and explore crucial elements for your success in the world of blockchain and web3.
Building your product
Start building your product with our internal team and our leading web2 and web3 operators and enterprises in organizational and technical development, product development, go-to-market strategies, and fundraising.
The Big Picture

The initiatives of the Sei ecosystem - The Sei Decentralization Program, the Sei Incubation Program, and the Sei Launchpad Program - Demonstrate a holistic approach to growing the Sei ecosystem. By providing the resources, guidance, and incentives, Sei goes beyond investing in projects and invests in the visionaries who generate them. Sei's commitment is to nurture a burgeoning generation of blockchain Web3 founders, equipped and inspired to drive the industry into a new generation.
---
Q&A

1. Where is the Sei Accelerator held?
The Accelerator is primarily online. There will be a product manager allocated to provide assistance in developing a strategic roadmap and collaborating with critical members of the Sei Foundation team. In addition, there will be opportunities for in-person meetings at a mutually convenient time and location.
2. Which program should I select between Sei Decentralization Program, Sei Incubation Program, and Sei Launchpad Program?
The Sei decentralization program entails enlisting far-sighted candidates to spearhead the expansion and distribution of the Sei network in key markets worldwide and enhance Sei's user base.
The Sei Incubation Program seeks to hasten internally incubated ideas from initial stages to readiness for launch, granting applicants a distinctive prospect to engage in a range of projects.
The Sei Launchpad Program is a platform that converts promising consumer app concepts into superb blockchain solutions. Candidates are required to design and showcase consumer-facing dapps or products.
3. I want to build a DAO and I have the ability to expand the Sei user base, how can I be involved?
Candidates who are interested in getting involved but don't have an idea of their own can apply for our Sei Decentralization Program.
4. I want to build a project but don't have an idea of my own, how can I be involved?
Candidates who are interested in getting involved but don't have an idea of their own can apply for our Sei Incubation Program.
5. If I have a great idea for building a project, but I'm not a technical developer. What should I do?
Candidates who are interested in getting involved but don't have technical skills of their own can apply for our Sei Incubation or Launchpad Programs.
6. Will I receive any financial compensation while participating in the Sei Accelerator?
Yes, if you have been interviewed by the committee and successfully joined the program, you will be awarded with compensation and clear milestones.
7. Can I participate in the Sei Accelerator on a part-time basis?
No, candidates are expected to be on a full-time basis in order to fully commit their time to the program and focus on expanding their business, interacting with customers/users, and improving their products.
8. What is the deadline for applying to the Sei Accelerator?
No specific deadline has been set. The program will carry on until further notice, please kindly refer to our Sei official news for updates.
9. Now isn't a suitable time for me to join, but I am interested, what should I do?
If the current timing is not convenient for you, the Foundation suggests that you should still apply for the application form and share your contact details. This will enable you to receive future updates and stay connected with our team.
10. I'm currently engaged in fundraising activities but I'm interested in the Sei Accelerator. What should I do?
The Foundation recommends that you should still apply for the application form and provide your contact details. This will enable you to receive subsequent notifications of updates and keep in touch with our team.
11. Is the Sei Accelerator appropriate for me if I'm already running a project?
If you have not yet raised tokens/equity investment and consider yourself a suitable match for the Sei ecosystem, please kindly submit the application. The Sei Accelerator is designed for founders at the earliest stages of their company journey.
12. Am I still eligible for the Sei Accelerator if I'm an independent founder?
Yes, you are eligible to apply and participate as an independent founder. The Foundation will facilitate connections between all potential candidates to help build the best team.

13. Do I need to know someone at the Sei Foundation team to get into the Sei Accelerator?
No, all applicants must fill out all of the required registration applications and must be interviewed by the committee in order to be accepted into the program.
14. If I participated in another accelerator, would I still be eligible for the Sei Accelerator?
Yes, every project is required to deploy its products on the Sei blockchain. If you are currently developing on other blockchains and haven't yet raised funds, the Foundation requires that you migrate to the Sei blockchain.
15. Do I need to establish a company before applying for the Sei Accelerator?
If you have not yet established a company, the Sei Accelerator offers access to professional legal service firms that can assist you with the incorporation process and help determine the most appropriate course of action.
---
About Sei Foundation
The Sei Foundation is a non profit organization created with the mandate to empower builders and contributors to the Sei blockchain, and further decentralize the blockchain over time.
About Sei Labs
Sei Labs is a contributor to the open-source Sei blockchain, the fastest Layer 1 for trading. Sei's unique chain-level optimizations enable decentralized exchanges and trading apps to offer the best user experience with modern performance and scalability. The Sei Labs team is composed of industry veterans from Goldman Sachs, Databricks, Robinhood, Google, and Nvidia.