Public Mainnet Launch is here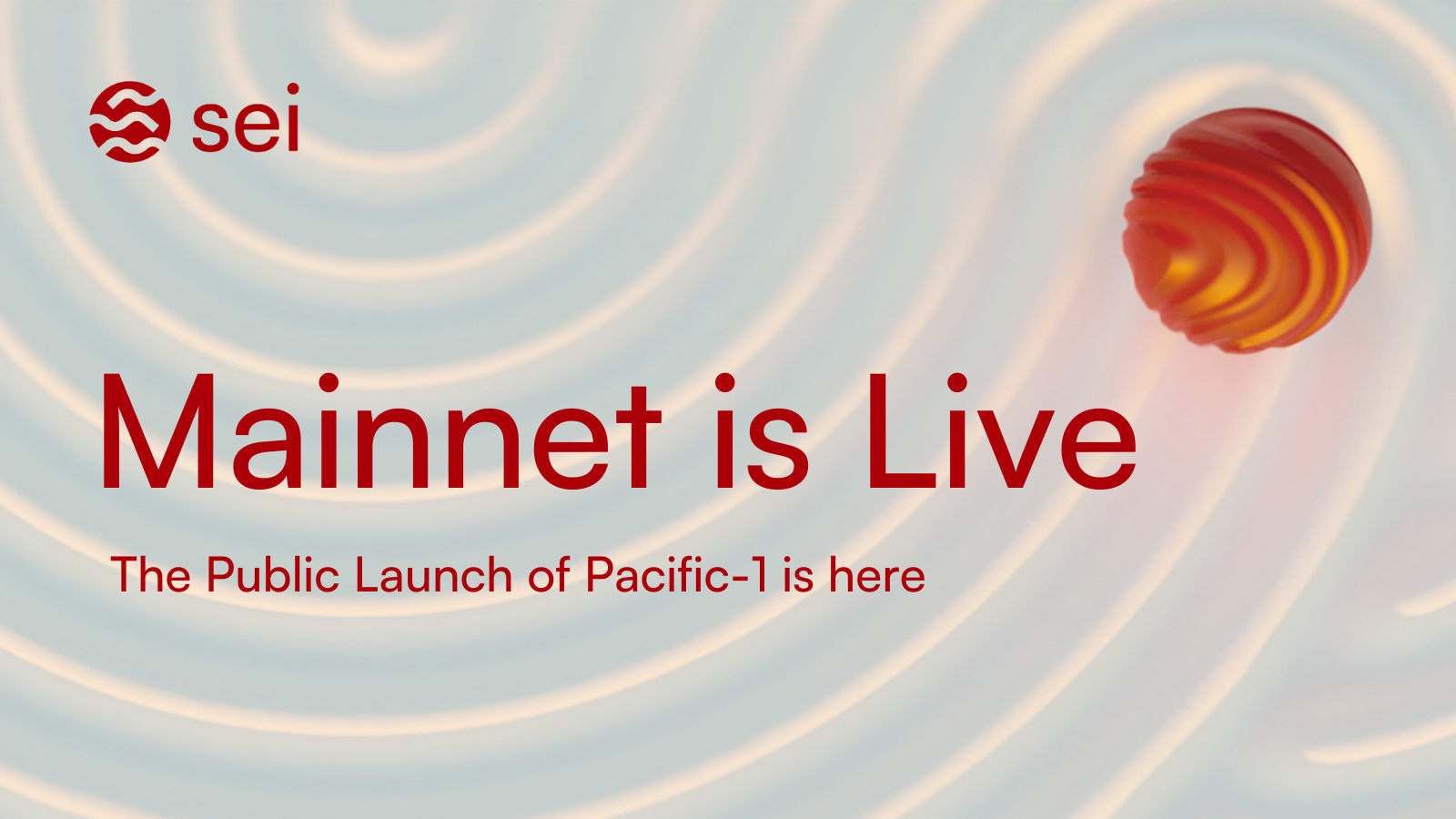 The moment the Sei Community has been waiting for has finally arrived: The public beta launch of Pacific-1.
After months of anticipation, preparation, and meticulous planning, the Sei Foundation are thrilled to welcome all thrill-seekers and adventure enthusiasts to step inside and experience the Sei blockchain firsthand.
The airdrop is open for claiming now.
Note: Please update your Compass wallet to the latest version, 0.7.10. Versions 0.7.8 and below will not be able to claim tokens. You will need to visit the chrome extensions page, activate developer mode and click "update".
Update 18/08/23:
"Users may now use Fin Wallet to take part in this event"
You can check eligibility and take part in the crosschain airdrop, along with rewards for Atlantic contributors here: https://app.sei.io/
Active users on any of these chains, are likely able to take part:
Solana
Ethereum
Arbitrum
Polygon
Binance Smart Chain
Osmosis
Read more about Sei's tokenomics here and the Sei whitepaper here.
A more detailed description of the Sei Airdrop can be found here.
For Sei Community members who participated in Atlantic 1 and Atlantic 2 Testing and The Sei Ambassador Program, please visit the Atlantic Rewards article here.
Bridging FAQs:
Update 18/08/23:
"in order to ensure the bridge tx is counted towards the sei airdrop, please bridge from the source chain you have linked to your Sei wallet"

My bridge tx is pending, how do I know if there's a problem?
Bridging is entirely handled by either Wormhole or Axelar, depending on the asset. You can visit the Wormhole Discord or Visit Axelar Support for more information. Note: when bridging from Ethereum, transactions may take as long as 30 minutes to arrive on Sei. This delay is due to how the Wormhole and Axelar bridging protocols operate, and does not reflect Sei's time to finality or performance.
For example, while assets are in transit from a source chain (in this example, Ethereum) they are being processed by the bridge protocol (in this case, Wormhole).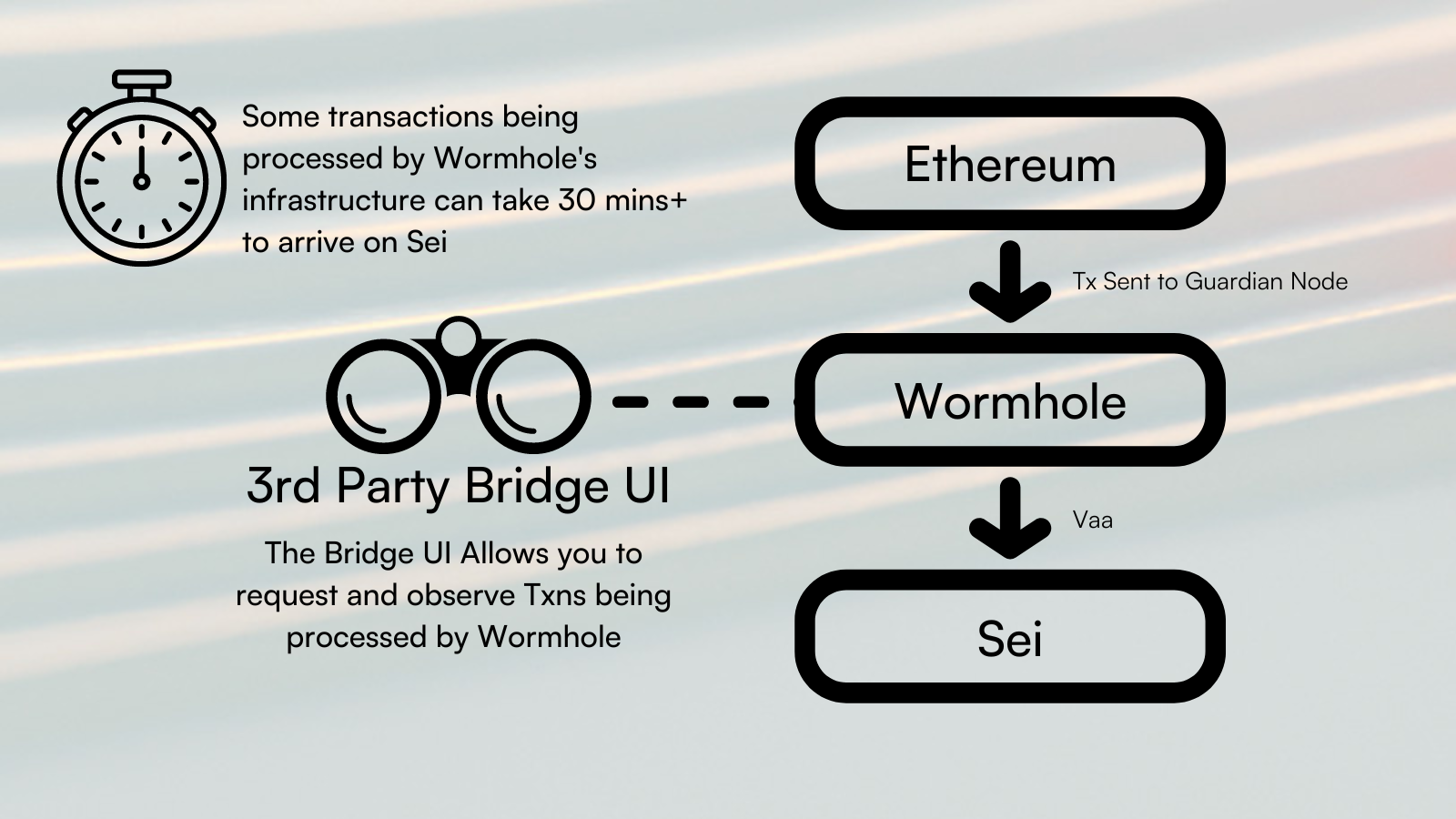 The Sei Foundation offers a simple themed frontend to maintain continuity of experience, however the underlying bridging protocols are completely separate from the Sei Foundation. The Sei Foundation has no influence over the Wormhole and Axelar protocols.
If you leave the bridge page and lose your progress while bridging out of Sei, you can return and use the "recover now" feature at the bottom of the page.
Are there any limitations to the assets that can be bridged in or out of Sei?
Any limitations are due to how Wormhole and Axelar set their parameters. The Sei Foundation has no control or say in this process.
Wormhole's standard procedure is to launch on new blockchains with default daily and big transaction limits, which will apply to bridging in and out of Sei - starting with 50k tx/day $500k in a 24 hour period.  Please be aware of this and note that these will increase over time.
Axelar also has limits for bridging axlUSDC to/from Sei, at $3m per 6 hour period.
How many airdrops can I claim?
Participants can earn up to one airdrop per external whitelisted address linked to a Sei wallet.
Once I have claimed an airdrop tier, can I try again with the same Sei Wallet / External chain wallet?
Does linking my wallets require me to share a private key?
No. Your private key is never shared or revealed as part of this process.
I participated in Sei's Atlantic Testnet and/or Ambassador program, where can I find my rewards?